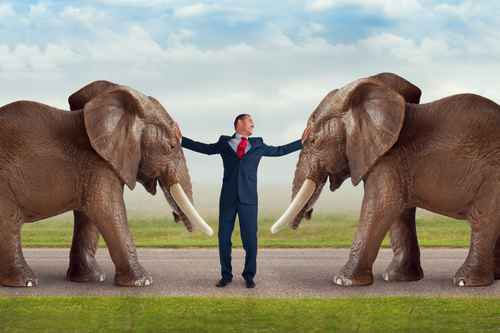 Most husbands shudder like little puppies when their wife says those four little words: "We have to talk."
Many business communicators can relate. When it comes to having that heart to heart about something touchy and unpleasant, our instinct is to flee rather than talk things through.
That's partly human nature, but isn't it ironic that public relations professionals — some of the most extroverted people in the world — are also some of the most non-confrontational people on earth?
"PR people are fearless in talking to reporters, editors, community groups, analysts, activists, and all manner of stakeholders about the merits of the company, client, or cause they represent. But put them in a situation where they need to have a difficult conversation with a client, manager, or employee and many avoid the experience regardless of the cost. Some will even deceive themselves into thinking that the avoidance is really a virtue they call 'diplomacy' or 'tact,'" says Alan Cohen, executive coach, consultant and presenter of the Oct. 7Communitelligence webinar, Difficult Talks for Communicators: How to Say What Needs to Be Said.
In 2011, Cohen asked 106 PR practitioners to identify what they considered to be the most difficult talks they'd ever experienced in their public relations careers. Each was invited to select three answers from a list of 25 possibilities (so the totals will not add up to 100%). Here's the top 10 countdown:
Addressing personality issues that are rubbing people the wrong way. 29.7%
Breaking the news you're eliminating someone's job. 23.8%
Pointing out that although an employee is working hard, they are not developing skills to advance to the next job level. 20.8%Telling the clients they cannot get what they want. 20.3%
Telling the clients they cannot get what they want. 20.3%
Giving negative feedback to a manager or supervisor. 19.8%
Discussing feelings of being taken advantage of or under-appreciated by boss or employee. 19.4%
Meeting with a colleague/employee who is not performing. 18.8%
Confronting dishonest or unethical behavior. 17.8%Telling a client that a story about his company or product was not going to be positive. 14.8%
Telling a client that a story about his company or product was not going to be positive. 14.8%
Asking for money owed you. 13.9%

"My experience as a coach for public relations pros bears out this truism: the biggest problems people have are other people," Cohen says. In the words of a Dutch proverb: "The world is good, but the people could be a lot better."
Books have been written on having critical, challenging and difficult conversations, and in fact Cohen has written one of them: "Those Difficult Talks For PR Pros." It explores in depth why communicators, of all people, shy away from face-to-face confrontations that have the potential to elevate or sink their careers and businesses. Often it comes down to simply conquering fears.
These are the eight reasons (in no particular order) Cohen hears over and over again on why communicators avoid conflict communications:
"I lack the training to handle these types of conversations."
"It's out of my comfort zone."
"I feel afraid of what will happen."
"I feel vulnerable."
"I don't understand the other person."
"There are too many obstacles."
"It's too political."
"It takes too much time."
There are many techniques that can prepare you for delivering tough messages with more finesse and less stress – and Cohen will be presenting the best from his book and workshops in this webinar. But more than anything, it comes down to being razor focused on the purpose for having the conversation, and staying centered and calm.
"I guess we are drawn to teach the things we want to learn. As a recovering people-pleaser myself, I have made it my life's work to learn how to have these conversations myself, and teach others to do the same,"  says Cohen
What if you could handle personal confrontations in such a way that both you and the other party not only walked away with a plan of action to address the issue, but also with a deeper respect and admiration for one another? What would be the impact on your business performance (morale, accountability, retention, engagement) if you were able to be comfortable having those kinds of challenging conversations?
If you would like these and other questions about tough talk answered clearly and efficiently, join Alan Oct. 7 at noon Eastern for Difficult Talks for Communicators: How to Say What Needs to Be Said, or purchase the replay course on Communitelligence.
It should even  help you the next time your spouse says, "We have to talk."