Description
Being welcomed into the executive suite takes more than a nice suit and hard work!  For those who aspire to leadership positions – or to gain access to the C suite as a trusted colleague – you need to behave, talk – and first and most importantly THINK like a person who can imagine and inspire innovation and high performance.
We've researched what characteristics are associated with innovators and developed ways to package accomplishments into statements of value that resonate with executives.  Through our four years of experience designing and offering our executive  master's degree in communications innovation, we've developed a curriculum and series of activities that don't focus on learning facts or skills, but on re-booting the way that the professionals enrolled in the program see themselves and project their image.
You'll learn: What research shows about the traits that are associated with leaders and innovators
Techniques for demonstrating the impact of the projects you've created – speaking the language of valuation rather than merely one-shot ROI or audience satisfaction
How being customer service-oriented can actually backfire
Ways to change your own thought patterns – and to learn to speak and behave like a leader – based on testimonials from our own graduate students who have within months catapulted themselves into new positions and put their careers on steroids.
Leader: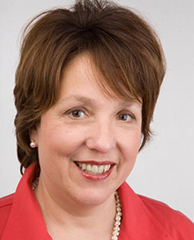 Diane Gayeski, Ph.D. is internationally recognized as a communications innovator, educator, author and consultant.  She currently serves as Dean of the Roy H. Park School of Communications, one of the top-rated schools in the nation enrolling more than 1800 students across 10 degree programs, including a unique executive-style online master's degree in communications innovation.
Diane has led hundreds of projects for clients worldwide through her consulting firm, Gayeski Analytics, specializing on developing new approaches to managing, evaluating, and building capacity for corporate communications professionals and departments.  She's the author of the recently released "Managing the Communications Function 3rd edition" published for members only by IABC . This is her 14th book and part of her professional presence that includes hundreds of conference presentations and in-house workshops.