Description
When Vermeer Corporation, a global industrial and agricultural equipment manufacturer, underwent a major brand initiative to align itself with the changing global marketplace, the company knew there was work to be done to get 3,000 team members, 600+ dealers and countless suppliers around the world on board to protect the promise being made to customers. Vermeer pulled out all the stops when it branded from the inside out to connect team members to its customers and the new brand.
In this session, hear from Vermeer's director of communication on how the company rallied their team members around the brand and how they've sustained it since.
Learn how Vermeer:
Simultaneously launched the brand across the world through Customer Alignment Week
Connected the external customer brand to the internal culture to increase authenticity
Created a culture where everyone can be a storyteller
Evolved existing and introduced new internal and external communication channels, while revamping their editorial content process to align with the new brand.
Practical take-aways for your organization:
Gain insights on how to engage team members from different locations around the world by creating modular events that drive customer awareness. During these events, at least 85% of Vermeer team members worldwide engaged directly with customers.
Learn how to incorporate and bring to life the connection between your corporate culture and your external customer brand promise to increase authenticity for customers and team members alike. By connecting the customer to the work Vermeer team members do day-in and day-out, brand awareness for Vermeer team members has improved by more than 60%.
Develop a culture of storytelling inside and outside your marketing/communication departments through the use of training tools, brand ambassadorship programs and business process improvement initiatives. Through the programming developed, more than 150 Vermeer team members have become brand ambassadors, for the organization.
Create an editorial process and content channels that align with your brand. Approximately 30% of the waste in the Vermeer editorial process was eliminated during a business process improvement initiative, while engagement in social channels alone more than doubled as a result of an increased focus on brand-aligned content.
Who the course is designed for:
Internal communicators, HR communicators, marketing communicators (most likely mid-level)
Course instructor: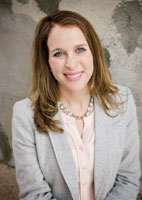 Kate Guess is the Director of Communication for Vermeer Corporation, a global industrial and agricultural equipment company. Prior to joining Vermeer in 2013, Kate most recently worked for a privately held patient communication company leading both marketing and training. She has also held marketing and communication positions at Motorola, Maytag, Polaris, Cold Stone Creamery and the University of Northern Iowa. Kate earned a Bachelor of Science degree in Journalism and Mass Communication with a business minor from Iowa State University and a Master of Business Administration degree from the University of Northern Iowa. She is also accredited in public relations from the Public Relations Society of America.