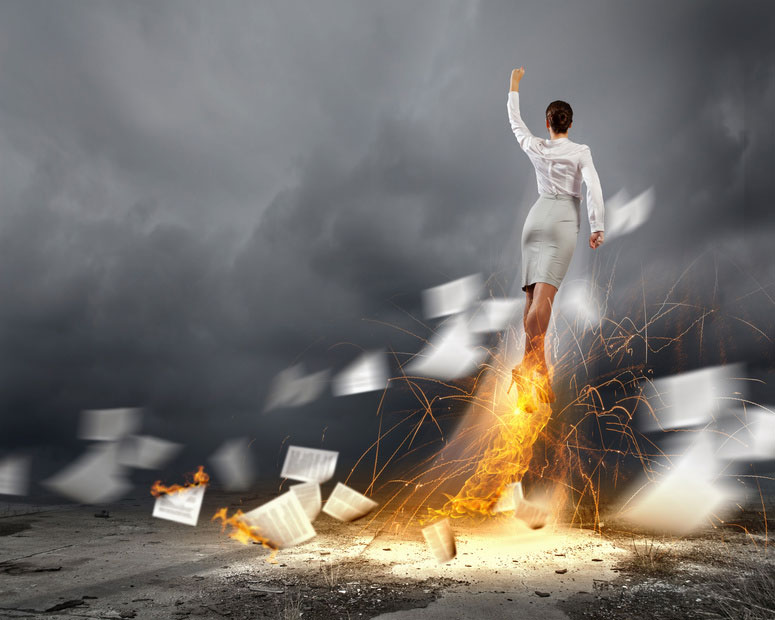 Editor's note: The first topic of the Communitelligence
Communication Leaders Circle pilot was the changing role of the corporate communicator. Liz Guthridge, co-leader of the Circle, wrote the 3-part series of articles being used for the group's discussion.

How do we corporate communication professionals reinvent ourselves to be viable and valuable in today's hyper-connected world?

More than three years ago, I wrote an article that attempted to answer this question for one of Melcrum's special reports. As I reflect on the social media explosion that we've experienced— including SnapChat, Instagram, Pinterest, Vine and others—generally at the expense of traditional media—corporate communication practices have remained relatively stable during this period, which is surprising.

The disruption that traditional media, hotels and taxis are dealing with is bound to affect professional communicators, especially those who specialize in internal communications, sooner than later.

To explain why we need to disrupt ourselves before others disrupt us, I've updated my three-year-old essay. And recognizing that some things have changed, it's now chunked into the three shorter articles in this series.
Why we need to disrupt ourselves before others do it to us
In his 2008 best-selling book Outliers, Malcolm Gladwell explains that an individual needs to practice a complex task for about 10,000 hours before he or she becomes a world-class expert.
Gladwell cites the Beatles, Mozart, Sun Microsystems co-founder Bill Joy, Microsoft co-founder Bill Gates, and others. (Ability, luck, support from others, and timing are also important for success.)
Generally, you can reach the 10,000 hour milestone after 10 years. According to Dr. K Anders Ericsson, who's the expert on expertise whom Gladwell cites in his book, the brain needs that many hours to assimilate all the lessons learned from practicing a complex craft to reach a level of mastery.
However, neuroscientists now say you can accelerate the process and still get similar results. Instead of doing the work, you can imagine yourself doing it as is or in a different way.
Expert vs. amateur?
So how does this 10,000-hour rule—practiced in either the real world or virtually—apply to the field of communication? Most of us certainly spend the majority of our waking hours communicating – much more than the 1,000 annual hours for a decade. Just count all of those Facebook and Twitter posts. This is true of those of us who work for pay, even if we're not considered a "professional communicator."
That's a key point these days. Who among us are experts? Even those who are professionally trained experience more communication mishaps than we'd care to admit. And how important is expert status – as long as we can get the job done on time without complaints and with measurable results?
Today's workplace is not our grandfather's or parent's world or even the environment most of us entered out of college. We're now more connected than ever, working against the clock in multiple time zones with restrained resources.
Compare this to my first professional communication job. During my junior year of college as a journalism student, I landed a prestigious internship. For someone who had wanted to be an investigative journalist, this paid position was on the dark side. I was the assistant editor for a Fortune 50 company's four publications: the monthly newsletter for 5,000 general office employees; the quarterly retiree newsletter; the bi-monthly tip sheet for field communication staff; and the bi-monthly magazine for employees, retirees and investors.
My family was thrilled. They had no idea what I did but they knew I was working in the same department as a local Oklahoma boy who had made it big. Carl had been a radio reporter on the farm beat who went to cosmopolitan Chicago and got a job at a major company.
Early on in my internship, I made a point to introduce myself to Carl who was then head of media relations. I remember asking him if he considered himself a businessman or an internal journalist. He looked me like I was way too wet behind the ears and responded sharply, "I'm a businessman, of course."
I thanked him and slunk down the hall of the 37th floor to my private office with a view of Lake Michigan.
And I didn't say a word to my administrative assistant or probably to anyone else.
Why am I sharing this exchange many years later? Carl's point of view is even more apropos today even though the circumstances in which we work are dramatically different. (Believe me, none of my other offices has ever been that cushy.)
Even though many of us changed the way we work in recent years, we have to further reinvent our role—even disrupt ourselves This assumes that we want to stay relevant and valuable today to a key customer group, the executives who pay our salaries.
What executives and other leaders want and need
Executives have a lot on their mind when it comes to communication at work. Besides getting good communication counsel for themselves, they're concerned about creating many collaborative, networked teams that span corporate and country boundaries and that get results. They're looking for more innovation, better customer service, improved productivity and any other edge that will give them greater profitability and a sustainable advantage against the competition.
For these teams to work quickly, efficiently, and cost effectively, they need to communicate well within the team and across other teams, the rest of the organization, with customers, suppliers, and other key stakeholders.
Where do these teams get their communication support?
They and operational and functional groups make do. Or, if they're working on a high-stakes initiative or succumb to executive pressure, they may borrow, buy or steal communication services from the corporate or business unit internal communication function. Resources aren't available for embedding a full-time professional communicator on the team. Yes, professional communicators can add value at the margins, but is the time and money worth it?
Shifting our mindset and service set
We professional communicators need to shift both our mindset and our service set if we're to continue to serve these teams and do it well.
We must transform ourselves from doing to being. In other words, rather than write like Mark Twain, American author extraordinaire, we need to act like one of Twain's most famous characters, Tom Sawyer. For example, Tom convinced a group of neighborhood kids to paint a fence for him and enjoy the experience.
In this new role, we provide direction and oversight in a number of areas. We're the "guide by the side" instead of the "wizard behind the curtain." The next installment will highlight five valuable services that can make a difference.
While many of us joined the profession because we love the craft of communication, we have to face facts.
Communication is like air. Just as everyone breathes, everyone communicates. And while global teams and functions may not communicate as well as we professionals, with our guidance they can succeed at exchanging clear information, building stronger relationships, and improving their performance as well as the results of their team and the organization.
That's a winning partnership.
Stay tuned for Part 2 next week