Description
Why it is crucial for communicators to take time out to conduct a communications assessment and understand business needs.
What formal and informal communications assessment tools/tactics will support your time and budget.
How much time and budget is required to support formal and informal communications assessment tools/tactics.
How to effectively communicate your assessment findings.
How to leverage your findings to create a solid communication strategy and plan.
What lessons can be learned from real world communications assessments conducted for NEC, Adidas-Solomon, UOP, ServiceMaster and other leading organizations.
Presented by:

Julie Baron is Principal of COMMUNICATION WORKS. She has over 18 years of communications experience.  Julie is a resourceful communications strategist with demonstrated ability to work internally within the organization, as well as externally within the community.  Her functional expertise includes executive/employee communications, speech writing, cultural awareness and marketing communications.With a proven track record of positively impacting financial and operating results through communication, Julie's client list includes Abbott, adidas-Salomon, HUB International, National Association of Realtors, Revell, and Pepsi Americas. Prior to opening the doors of COMMUNICATION WORKS, Julie held senior level communications positions for NEC Technologies, Inc. and Motorola, Inc.  She also has agency experience.Julie has published several communication and training articles and has lectured on communications topics including CEO communication, culture development, global communication and internal marketing.  She's been recognized for her leadership abilities, team focus, creative strategy, execution and effective working relationships.An active member of the International Association of Business Communicators (IABC), Julie has held many volunteer leadership positions including president of the IABC/Chicago chapter, the association's second largest chapter worldwide. Julie graduated from Northwestern University in Evanston, Illinois, with a master's degree in communications. She holds a bachelor's degree in broadcasting from SUNY Buffalo.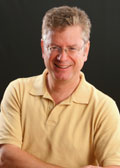 Sean Williams is the owner of Communication AMMO, Inc. He helps leaders improve their communication skills, build strategic communication plans, strengthen internal communication capabilities and effectively measure the results. His clients include the Federal Reserve Bank of Cleveland and KeyBank. Follow him on Twitter at @CommAMMO. Most recently, Williams was vice president of Corporate Communications for a financial institution, leading the internal communication, and internal and external public relations measurement and evaluation functions during the height of the financial crisis.
Previously, he was manager of Editorial Services for The Goodyear Tire and Rubber Company, responsible for internal communication and video production, photography and event production management.  While at Goodyear, Williams lead the team rebuilding the corporate intranet, using editorial content from around the world.  He also served as the primary internal communication consultant to the company's senior leadership and produced videos and still photography for a variety of external and internal constituencies.

Susan D'Alexander, ABC, is Senior Communications Consultant at Motorola Global Communications. Susan has a 25-year career with Motorola with more than 18 years experience in communication management, including corporate, HR, marketing and corporate social responsibility communications. Susan is a member of the International Association of Business Communicators (IABC) earning an accredited business communicator (ABC) certification in 2008. She holds a Bachelor of Science degree from Western Illinois University and a MBA from Roosevelt University, Chicago, Illinois.

Alex Vass has been a communicator,  telling stories and creating messages, all of his working life.  He is presently a communications advisor with the Royal Canadian Mounted Police responsible for internal and external communications for the Codiac Regional RCMP detachment based in Moncton, New Brunswick.  He along with his fellow RCMP communications colleagues in New Brunswick recognized the need for a communications audit to demonstrate to senior management the value communications has within the organization and how communications must become part of the organization's core business.  The RCMP in New Brunswick is now on a path towards doing just that.  Prior to joining the RCMP in 2005, Alex spent over 25 years as a journalist in Atlantic Canada, 16 years of which was as a reporter with the CTV television network.