Description
How and why FedEx Employee Communications moved from focusing on creating more news to creating better business outcomes.
This webinar features Terry Simpson, head of employee communications for FedEx Express. After conducting a global communication assessment, Terry and her colleagues decided that the communication function needed to focus more on creating business outcomes rather than distributing more news.
Working with FedEx Express leadership she identified and conducted a project in Los Angeles to improve US export volume through better managed communication. The result: 15% increase in volume and 23% increase in revenues with an overall 1,400 ROI.
What You Will Learn:
How to work with senior leadership and a lot of data to identify opportunities to improve performance through better managed communication
How to search for opportunities within the white spaces—the areas between functions and disciplines
How to bring disparate groups together to improve performance through enhanced communication
How to recognize root causes of performance problems
The powerful role rewards play in communicating what's important
How to take a success and create an even bigger one with five more locations.
Questions that are answered:
What's the difference in managing communication to create output—a distribution business—and managing it to create outcomes—a solutions business?
Is there a role for traditional communication practitioners in this process?
What additional skills and knowledge do I need to move to this new level?
How do I get started?
How do I pick the right project that practically assures success?
What's in it for me if I make the shift?  More money? More career opportunities?  More fame?
What's the best way as a communication manager to move from output to focusing on solutions?
What did FedEx stop doing when it embarked on this project?   This goes to the question of staffing – were additions made to the department?
Did you use any formal media channels to bolster your face-to-face solutions processes?
Where do you go to get training to lead your department in this direction?
What disciplines should you study?
What pushback do you hear from communicators when you present this message?
What's the best way as a communication manager to move from output to focusing on solutions?
Who Should Purchase:
Communications professionals who want to enhance their partnership and value to the business.
Instructor: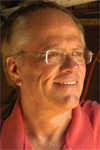 Jim is an internationally recognized business advisor, leadership coach, author, speaker and leader of the Jim Shaffer Group. He focuses on improving business performance and managing large scale organizational change. He helps business leaders significantly improve and sustain operating and financial performance while achieving exceptional ROI. His clients have included many Fortune 500 companies such as FedEx, Nordstrom, Hallmark, Honeywell, IBM, Kellogg's, The Mayo Clinic, Marriott, Medtronic, PayPal, Pfizer, 3M, United HealthCare, Verizon and Visa. Jim's clients and peers describe him as having a unique ability to: View performance issues from a broad, systems perspective; Remove root causes rather than treat symptoms so gains can be sustained; Measurably improve performance in a way that adds net value to the enterprise; Leave a client with stronger leaders and higher performing people. His book, The Leadership Solution, became a classic treatise on leadership and performance. Hailed by leading CEOs as "invaluable for someone wanting to lead an organization into the future, " The Leadership Solution is frequently listed as one of the top "must have" business books on leadership, change management, communication and creating high performance through people.
Terry Simpson has worked in the Communications field for over 30 years in every area including broadcast, video, print, web sites, event management, strategy and content development.  Terry is leading the change at FedEx Express and using communication solutions to solve business problems.