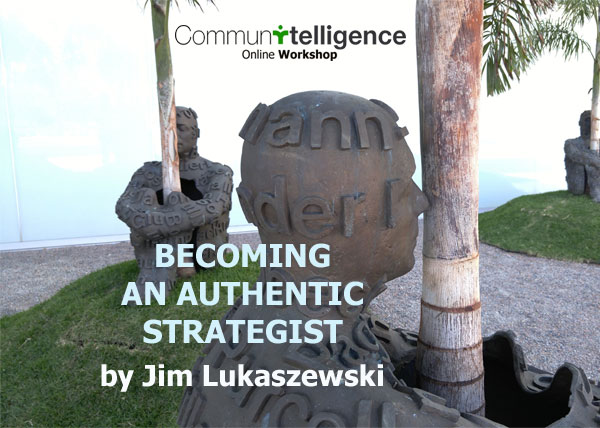 Leadership
BECOMING AN AUTHENTIC STRATEGIST
0( 0 REVIEWS )
2 STUDENTS
Instructors
BECOMING AN AUTHENTIC STRATEGIST
BECOMING AN AUTHENTIC STRATEGIST
This course meets for one  hour online weekly starting Sept.14.  Login and review Part 1 videos below, and Register for the workshop.
Course Goal:
"Our intention in designing this course is to truly help each attendee understand what strategy is and what being strategic really means. Participants will be asked to leave all of their professional assumptions about public relations, communications, business, and other topics outside the classroom so together we can begin anew, building a critical understanding of the strategic mindset and learning how to work and think in the context of strategy the key to being a more trusted strategic advisor."
Course Curriculum
Part 1
The Philosophy of a Strategist

00:03:00

The Assumptions of a Strategist

00:05:00

What Does Senior Leadership Want From Their Trusted Advisers?

00:11:00

What is Strategy?

00:09:00

Management Thinking Styles

00:07:00

Becoming an Authentic Strategist – Q&A with Jim Lukaszewski

00:15:00

Part 2
How to get to the table earlier

00:00:00

Part 3
Being heard instead of ignored

00:00:00

Part 4
Building the bosses trust

00:00:00

Part 5
Getting the boss to do the unwanted but necessary

00:00:00
Course Reviews
5 stars

0

4 stars

0

3 stars

0

2 stars

0

1 stars

0
No Reviews found for this course.