Description
Hailed a "Celebrity CMO" by Forbes Magazine, and famous for his outspoken appearances on numerous television networks, Jeffrey Hayzlett is widely recognized as one of the most influential marketers of our time. He'll talk to us about what he calls "The Mirror Test, " the title of his new book and a new way to look at your company's marketing and sales strategy. Hayzlett will share with you some of the newest ways to win with social media, redefine your elevator pitch and help you to transform your business. He has just lead one of the biggest iconic turnarounds of Kodak and is here to share how you can do the same for your business. Will your business be positioned to fog the mirror and grow in today's new economy?
Learning Topics:
How to give your business the mirror test and find out if it is really breathing
Why and how you have to sharpen your elevator pitch
How to win with social media
How to really focus on your bottom line
Presented by: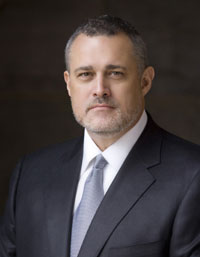 Jeffrey Hayzlett is the bestselling author of the "The Mirror Test" on how you and your company must adapt or die. Speaking frequently around the world, his topics include business growth, communications, and marketing. Mr. Hayzlett also keynotes at events such as The Economist Marketing Summit, THE Conference on Marketing, the 140 Character Twitter Conference, CMO Summits, Mobile Marketing Forum, Digital Life Design Conference, Photo Marketing Association Conference, Direct Marketing Association Leadership Forum, and National Postal Forum. He is cited as a leading marketing expert in numerous books, magazines, and newspapers worldwide, and is a frequent television guest and commentator, having appeared on shows including CNBC's The Big Idea with Donny Deutsch, Fox Business News, and NBC's Celebrity Apprentice with Donald Trump. He has received numerous global marketing and business awards and honors, including the Frost & Sullivan Lifetime Achievement Award for marketing. He was named "Business to Business Marketer of the Year" by BtoB Magazine and "Direct Marketer of the Year" by the University of Akron Taylor Institute for Direct Marketing. In 2008, Mr. Hayzlett was inducted into the College of Business Administration Direct Marketers Hall of Fame. In June 2009, he was awarded the prestigious "G.D. Crain Jr. Award for Marketing Excellence" and inducted into the BMA Hall of Fame at the Business Marketing Association's annual conference. Previously, the U.S. Small Business Association named him "Entrepreneur of the Year." Mr. Hayzlett currently sits on the Business Marketing Association (BMA) board of directors and is a past chairman of BMA. He is a member of the advisory board of the CMO Council, chairman of the Sales and Marketing Executives International (SMEI) Foundation for Marketing Education, a permanent trustee of the SMEI Academy of Achievement Sales and Marketing Hall of Fame, and a two-term past chairman of SMEI. He serves on Sales & Marketing Management Magazine's 2009 Editorial Advisory Board. Mr. Hayzlett remains a trustee of Pi Sigma Epsilon National Education Foundation, an international sales and marketing fraternity. Mr. Hayzlett has nearly 25 years of international marketing, sales, and customer relations management experience. He joined Kodak in April 2006 as Chief Marketing Officer and Vice President of the Graphic Communications Group (GCG). In this role, he was responsible for leading all marketing activities for the business, including product positioning, segment marketing, branding, marketing communications, customer development, business research, marketing strategy, and business development activity. He became Chief Business Development Officer in September 2007 and was responsible for Brand Development and Management, Market Development, Corporate and Product Public Relations, Communications and Public Affairs, Corporate Sponsorships, Business Development, Corporate Relationships and Partnerships, and Marketing.
Webinar excerpt
Jeffrey Hayzlett on Business Transparency (3 min.)