Description
Universal search changes everything! The advent of Google's Universal Search has been called "the most radical change to its search results ever." So, how do you take advantage of Google's new approach that blends listings from news, blog, video, and image search among those it gathers from web search? In other words, how do you get found in all the right places? Take this course and learn strategies and tactics for expanding the audience for their content through Google News, Yahoo! News, Google Blog Search, Technorati, Google Image Search, Flickr, YouTube, Yahoo Video and a growing variety of other sites.  
Learning Topics:
How to optimize, distribute and measure press releases, RSS feeds, images and video files
Pick your target keywords for news, blog, image, video and web search engines;
Position your keywords in crucial locations;
Create original and unique content of genuine value, including text, images and video;
Avoid search engine stumbling blocks;
Build inbound links intended to help people find interesting, related content;
Just say no to search engine spamming;
Submit your Sitemap, RSS feeds, and videos to search engines and directories;
Verify and maintain your listings; and
Go beyond web search engines to include key vertical search engines.
Presented by: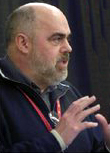 Greg Jarboe is the president and co-founder of SEO-PR, a search engine optimization firm and public relations agency with offices in San Francisco and Boston. He is also a partner inNewsforce, developer of an integrated suite of press release SEO tools. Greg is a frequent speaker at Search Engine Strategies, WebmasterWorld's PubCon, and public relations conferences. He is also the news search, blog search and PR correspondent for the Search Engine Watch Blog. Greg has more than 25 years of experience in public relations, marketing, and search engine optimization at Lotus Development Corp., Ziff-Davis, and other companies. He graduated from the University of Michigan, attended the University of Edinburgh, and worked on his Masters at Lesley College.