Description
Stop repeating these 10 proven mistakes when dealing with the media and managing your media relations program!   
Ever since outlaw Jesse James wrote and issued the first news release, media relations practitioners have steadfastly refused to learn from the mistakes of their forebears.In James's case, he didn't take into account the suspicious and questioning nature of the reading populace, who viewed his bombastic news releases as early American "spin control." 
Learning Topics 
Underestimating the intelligence of your audience is just one of the 10 major mistakes covered in this session. Others include:
Not being a student of the media, keeping up with their changes needs and trends
Confusing media output numbers with bottom-line outcome measures
Annoying editors with misdirected and/or badly-prepared materials
Not routinely evaluating your media relations programs and management
Trying to substitute media relations for communication
Wilma answers real-world questions on:
Holding the media accountable and keeping them from allowing bias or half-truths from creeping into news coverage, so that what is reported is straight, honest and fair
How recent college graduates — with no contacts — can build relationships with the media
The most effective ways to pitch
Dealing with a less-than-objective journalist
The best way to get to know a editor, writer or reporter
The most important and effective tools in media relations
The best day/time to pitch stories
The least offensive way to bring a reporter's error to his or her attention – and how to ask for a correction
Pushing the envelope: How persistent you should be in making your pitch
Teaching senior management the difference between a subjective, self-serving news item and a legitimate, content-rich press release
Measures practitioners should routinely implement to measure results on the fly – especially during a crisis
The biggest changes in media relations over the past 10 years
Presented by: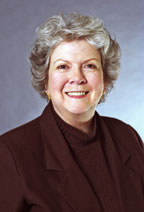 Wilma Mathews, ABC and IABC Fellow, works for Arizona State University as director of constituent relations. She also conducts media relations seminars, provides media training for corporate executives and is co-author of On Deadline: Managing Media Relations (4th edition, Spring 2006). Her background includes corporate communications and international public relations for AT&T/Lucent; nonprofit communication for two chambers of commerce and a medical center; and writing/editing for a newspaper and magazine. A national and international speaker, Wilma also contributes articles to trade publications and lectures on PR and media relations at ASU.