Description
The best way to communicate with people you are trying to lead is very often through a story. More and more organizations are realizing that stability and predictability are no longer reasonable assumptions. In fact, the number one problem of today's managers is the difficulty in getting their organizations to adapt to a competitive environment that is neither stable nor predictable. Yet while change is irresistible, the organization often seems immovable. Drawing on his experience as program director of Knowledge Management at the World Bank from 1996-2000 and his work with many of the top organizations in the world, Steve Denning shows how to identify and craft a springboard story; i.e., a story that will spark action. Using a simple template, you will be equipped to get started on crafting your own springboard stories. 
What you will learn:
The importance of storytelling
Appropriate situations for telling stories
Why storytelling can handle leadership challenges for which conventional command-and-control techniques are impotent
The essential ingredients of a springboard story — i.e., a story to communicate a complex idea and galvanize action
How and why storytelling can communicate complex ideas, and why stories are so persuasive
How to find and craft springboard stories for your organization
How to use storytelling to ignite your career by becoming an authentic leader
A 10-point template for crafting your stories
Eight types of stories that you can put to work for you
How storytelling changed the way the World Bank shared knowledge
Who should purchase:  This exceptional learning opportunity is designed for managers and professionals in:
Corporate Communications
Marketing
Advertising
Internal Communications
Public Affairs
Public Relations
Organizational Development
Human Resources
Corporate Strategy and Development
Senior Management
Anyone, anywhere in an organization
It's also an important addition to the offerings of college/university libraries and bookstores. 
Instructor: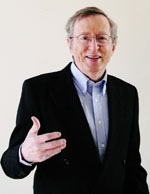 Steve Denning is the former program director of Knowledge Management at the World Bank. He now works with organizations in the U.S., Europe, Asia and Australia on knowledge management and organizational storytelling. Steve is the author of several books on organizational storytelling, including:
Steve was born and educated in Sydney, Australia. He studied law and psychology at Sydney University and worked as a lawyer in Sydney for several years. He did a postgraduate degree in law at Oxford University in the U.K. before joining the World Bank, where held a number of positions from 1996 to 2000. In 2000, Steve was named as one of the world's "10 Most Admired Knowledge Leaders" (Teleos). In 2003, he was ranked as one of the world's Top Two Hundred Business Gurus: Davenport & Prusak, "What's The Big Idea?" (Harvard, 2003). In 2005, his book, The Leader's Guide to Storytelling, was selected by the Innovation Book Club as one of the 12 most important books on innovation in the last few years. Steve is a Senior Fellow at the James MacGregor Burns Leadership Academy at the University of Maryland.